TSD__

2

35 Torque 

Multiplier

 Calibration Systems
A.K.O. Torque Multiplier Calibration Systems, TSD__235, are rugged and durable reactionary torque stands made to withstand the forces of torque multipliers. They are offered in configurations from 10000 lbf∙ft up to 150000 lbf∙ft. These systems are made from solid steel in a welded fabrication. The reaction portion of the system is mounted on a rugged lockable System Cabinet which has a swiveling Digital Indicator Stand so readings can be viewed from any angle. The addition of our TSD1025P Rotary Actuator, which is used to drive the Input Torque Transducer, and  TorqCal Pro software will upgrade this system to an Automated data acquisition and Certification Generation system with the ability to calibrate a Torque Multiplier and generate a certification in under 5 minutes. 
The TSD__235 is available in a variety of capacities including the following: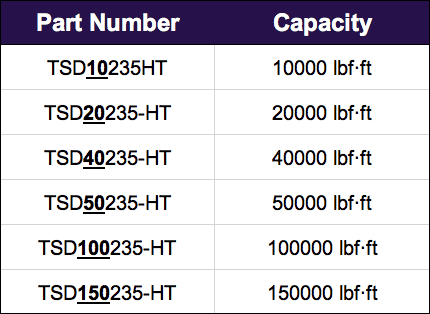 Application
The TSD__235 is a modular system that has several accessories and options available. With the appropriate accessories, these systems are capable of calibrating many tools such as Torque Multipliers, Direct Read Torque Multipliers, Hydraulic Wrenches, Pneumatic Torque Tools, and Electric Torque Tools.  
Operation
The TSD __235  is a compact self-contained system, and uses a TSD__235-2 Multi-pattern Bridge Plate designed to easily install a square drive reaction, pin reaction, inline, or offset Torque Multiplier onto the system. The reaction torque is measured with our precision thru-hole design strain gauged Torque Transducer connected to a TSD6500 Digital Torque Indicator with Engineering Units Conversion feature that enables the user to choose the appropriate torque standard. The Torque Multiplier to be tested and calibrated is installed on the system and torque is applied to the input drive to user-selected points to verify the accuracy of the torque input. 
Please contact the AKO sales team in Windsor, CT to discuss your specific application.
Additional Information