TSD10035-TM-ATP-PD-SYS-BT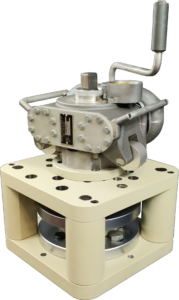 The TSD10035-TM-ATP/PD-SYS-BT, Torque Multiplier Calibration System is a bench-mounted system that is used to calibrate ATP, POWER-DYNE, other pin-pattern, or direct read type Torque Multipliers, up to 10000 lbf∙ft. It is also offered in a 5000 lbf∙ft configuration. Several accessories, such as bushings, drive bars and interchangeable pin-pattern plates, are available for this System. The TSD6500 Digital Torque Indicator is used to display the torque values of the multipliers. The TSD10035-TM-ATP/PD-SYS-BT can be fitted with our TSD1025 Rotary Actuator to allow the user to test and calibrate Torque Multipliers where an input torque ratio is desired. This system can be upgraded with our TORQ-CAL Pro Software to capture and process the Data and information into Calibration Certificates and reports, or stored for future use. 
Application
The TSD10035-TM-ATP/PD-SYS-BT has many adapters available. With the appropriate adapters these systems are capable of calibrating tools such as Torque Multipliers and Direct Read Torque Multipliers.
Operation
The TSD10035-TM-ATP/PD-SYS-BT is a compact self-contained system, and uses a Multi-pattern Bridge Plate designed to easily install a square drive reaction, pin reaction, or inline Torque Multiplier onto the system. The reaction torque is measured with our precision thru-hole design strain gauged Torque Transducer connected to a TSD6500 Digital Torque Indicator with Engineering Units Conversion feature that enables the user to choose the appropriate torque standard. The Torque Multiplier to be tested and calibrated is installed on the system and torque is applied to the input drive to user-selected points to verify the accuracy of the torque output.
Please contact the AKO sales team in Windsor, CT to discuss your specific application. 
Additional Information
Benchtop (Multiplier)
TSD350
TSD351
TSD362
TSD365
TSD20232-TM-2
For more information on adapters and bushings,
click here
.
TSD1025

TSD10003-HT-24

TSD10003-PN-56

TSD20005-H-4K

TSD20006-43-40-2-8.5

TSD20006-43-56-7-7
For more information on our accessories,
click here
.